Royal Oz News 2014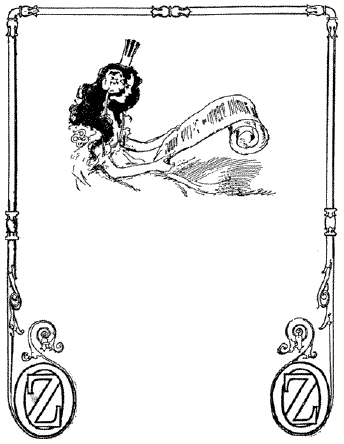 12/4/14 Laughing Dragon
Completed the plot synopsis and continuity notes for The Wonder City of Oz and the original uncut manuscript Rosine and the Laughing Dragon of Oz. Moved "There's No Place Like Oz" to 1905.
11/27/14 Happy Thanksgiving!
Continuing work on the timeline has included more extensive notes on Ruth Plumly Thompson's non-Oz stories. Also added the nine known Oz Kids episodes (out of 26 that aired) in chronological order (thanks to Cynthia Hanson). No news as to when, if ever, the complete series is coming out on DVD (and Hyperion Pictures doesn't appear to have a working email address).
10/2/14 New OZ Book!
The second edition of The Giant Chinchilla of Oz, by Andrew Heller, is up at Amazon (and at a great price) and other online book stores! If you already have the first edition, the second one has been updated and re-edited (by yours truly), boasts an attractive new cover and new illustrations. If you never got around to obtaining the first edition, the story follows Jason of New Jersey, the titular chinchilla and Button-Bright on a fascinating journey through and under Oz, as they encounter evil weevils, a notorious spin doctor, and other strange and wild realms. The narrative is well-written, amusing, thought-provoking and true to the spirit of Baum and Oz. Check it out!
8/9/14 Press Release!
<![if !vml]>

<![endif]>
FOR IMMEDIATE RELEASE
August 09, 2014
Media Contact:
theroyalpublisher@thewizardofoz.info
Classic American Fantasy Returns in Three New Novels!
Valley Stream, NY—Need an escape from the stressful world of long hours and constant bad news? New York-based company, The Royal Publisher of Oz, is sending people on a journey into imagination with a line of fantasy books set in the expanding universe of Baum's Land of Oz!
<![if !vml]>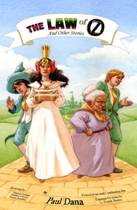 <![endif]>L. Frank Baum's legendary Oz series was the very first American fantasy series, spawning numerous Hollywood films, Broadway plays, animated series and collectibles! Continuing where Baum and his successors left off is this exciting new series of fantasy novels that go beyond the Yellow Brick Road into dangerous and exciting territory!
The Law of Oz and Other Stories is a journey through time! When two best friends, Button-Bright and Ojo decide to get lost, they wind up two hundred years in the past! There, they uncover the secret behind the very enchantment of Oz, the ancient evil of the Phanfasms, and the mysterious shape-shifting Yookoohoos, who hold the key to a mind-shattering truth! Four stories and three illustrators in one book! Available everywhere in trade paperback, $21.99.
<![if !vml]>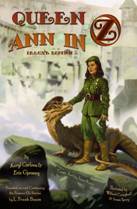 <![endif]>Queen Ann in Oz picks up where Baum left off, as would-be conqueror Queen Ann goes on a quest to find her missing parents, lost for decades! With the help of a vagabond named the Shaggy Man, a loyal dragon and a squabbling pack of volunteers, her journey through the mists of Oz to a land called Forgetville may well be her undoing! Includes the new novella "Jodi in Oz," loads of illustrations, and much more! Available everywhere in trade paperback, $15.99, and in a deluxe hardcover with 15 full color plates (exclusively at Lulu.com)!
In The Magic Umbrella of Oz, the intrepid heroes of The Law of Oz and Other Stories are back, but this time with strange new powers! When the Magic Umbrella is stolen by a dark spirit they've unleashed, it is up to the best friends to return to the past and help the Wicked Witch of the East retrieve her most precious magical item, the Silver Shoes! Available everywhere in trade paperback, $15.99, and in a deluxe hardcover with full color plates and unique deluxe-edition dust-jacket (exclusively at Lulu.com)!
ABOUT THE ROYAL PUBLISHER OF OZ:
Founded in 2012 by Joe Bongiorno, The Royal Publisher of Oz is a New York-based publishing company dedicated to producing Oz and fantasy books that match the look and style of the classic fantasies of old. Our Oz books are edited with an eye towards maintaining continuity with the original Oz series and Borderlands of Oz books as delineated on The Royal Timeline of Oz. To view a complete listing of available and upcoming titles, visit www.theroyalpublisherofoz.com.
7/22/14 Two New Books
Debuting at the Winkie Convention will be Paul Dana's The Magic Umbrella of Oz and Karyl Carlson & Eric Gjovaag's Queen Ann (and Jodi) in Oz! Both books will be available everywhere soon in trade paperback, and in a deluxe hardcover edition with color plates! Stay tuned here for more information!
7/21/14 More corrections
Sending a shout-out to Cynthia Hanson for finding some missing items from the Deadly Desert and other sections of the timeline, which I'll include once I've read them. Thanks for the heads up!
7/1/14 Corrections
Just wanted to send another shout-out to Douglas Ethington for his help in spotting numerous errors, great and small, throughout this site! Thanks again Doug!!
As to the upcoming books, Magic Umbrella will be at the printers today or tomorrow, while Queen Ann is right behind!
6/26/14 Finishing Touches
Two books will be ready shortly, Paul Dana's The Magic Umbrella of Oz, and Karyl Carlson & Eric Gjovaag's deluxe edition of Queen Ann in Oz, which features an exclusive novella "Jodi in Oz" and "Another Adventure in Oz," the latter of which was performed at Winkie-Con 1988!
While you're waiting for these, check out Nathan DeHoff's excellent "Gone with the Hurry-Cane," a story that takes place in the distant past, starring the Red Jinn of Ev, Prince Ash of Rash and Johnny Dooit. Click on the story link above to read it.
5/17/14 Shout Out!
Just wanted to thank super-fan Douglas Ethington, who took a lot of time and effort going through this site and correcting several errors he found! I love it! Thanks Doug! I couldn't do it without you guys! I'll be updating based on Doug's recommendations in the next few days. Anyone else see a mistake or something I've overlooked? Drop me a line here!
4/21/14 Reconciled!
Those of you who read Oz know that Baum left a few discrepancies for later authors to fill in the blanks ;) Well, sometimes those retcons appear to create new discrepancies, such as the issue surrounding when Ozma was handed to Mombi. Until now, there's been a seeming contradiction between Melody Grandy's Seven Blue Mountains of Oz trilogy (which has Mombi enchant Ozma much earlier) and Hugh Pendexter III's Oz and the Three Witches (which has Ozma given to Mombi much later). As The Royal Timeline of Oz considers both of these books deutercanonical (which means canon that was introduced later), how could they be made to fit alongside one another. Check out this article here for the answer!
4/17/14 Merchandise!
A lot of you have asked about it, and it's finally here! T-shirts and mugs and more! Check it out here! More will be coming in the days ahead!
4/10/14 Tik-Tok Man of Oz: The Play!
Check out the Kickstarter page for information on this lavish Eric Shanower/David Maxine produced play, which looks to be lots of fun!
Also, a shout out to Douglas Ethington for catching a very silly error on my part (forgetting the year 1900!) and letting me know! Thanks Doug! This timeline wouldn't be half what it is without guys like you!
2/14/14 A Fascinating World
Oz is an interesting study because the deeper you delve into the books, the more you get out of them. That's true chronologically, as well as in other areas, and as I reread everything again, I find details and indications of chronology in places I didn't expect. For example, did you know that Baum indicates that only a year and ten months pass between the events of The Marvelous Land of Oz and The Road to Oz? I certainly didn't until coming across Chapter 16 of that latter book, which indicates by date how much time has passed since Jack Pumpkinhead came into existence. That was helpful information, as things weren't lining up like they should've until I made the adjustment. So, expect to see more changes, and what appears to be a pattern of compression (which I also discovered with Thompson's books), as Baum appears to place events much closer to one another than was originally thought. And when he didn't, the time he wrote stories sometimes forces us to. For example, Rinkitink in Oz was original written in 1905. As Baum himself said he was a historian (and not a prophet), that necessitates the placement of that story on that date or prior, but because it contains characters introduced in The Scarecrow of Oz and The Patchwork Girl of Oz, those stories are required to take place prior to it. Yet, they fit. A year is a long time, after all.
2/5/14 More Details and Clarifications
Oz history is not for the faint of heart! There is an expanded section on the Queer Visitors from the Marvelous Land of Oz (now reconciled with The Visitors from Oz) on mainline timeline, as well as tidbits of info that keep coming in the footnotes sections. I know it would be easier if I specified exactly what I changed here in the updates section, but it comes so fast and furious that I oftentimes forget to update the updates! Sorry 'bout that, and let me know if you want me to put more effort into doing so.
1/31/14 Trip Through Oz
Going through the Oz timeline again for the first time in many years has proven an interesting, enjoyable and valuable journey. It's certainly helping me to expand The Royal Timeline of Oz in ways I'd been wanting to do for a long time. It also helps to better define what belongs on the mainline timeline, and what doesn't. Thus, you'll see that certain things that weren't on here before, e.g., Ed Einhorn's "Ozma Sees Herself" and Henry Blossom's The Blue Emperor of Oz, are now on the mainline timeline, and things that were on it, e.g., Roger Baum's Dorothy of Oz, Polly Berend's Ozma and the Wayward Wand, aren't. Time offers a better respective on things. So does experience and knowledge of the universe (or the Oziverse as we call it). What may have seemed conflicting then now appears reconcilable, and what may have seemed passable then is now irreconcilable. Of course, The Royal Timeline of Oz is not about rules. If you feel that Dorothy of Oz belongs in your personal vision of canon, then certainly it should be! While the mainline timeline may seem to take a stricter view of continuity (as well as of quality of content) this time round, The Royal Timeline of Oz itself embraces all interpretations of Oz as potential parallel universes.
1/11/14 Sherwood Smith's 3d Oz Book is Now Available!
The long-awaited Sky Pirates Over Oz marks the first new Oz book of the new year, kicking 2014 off to a great start! Much kudos to Marcus Mebes who somehow pulled a rabbit out of a hat, securing a release that many of us thought would never see the light of the day. Head on over here to grab the book, whilst I get into some back-story to bring new fans up-to-speed.
Back in 2005, a major publisher did something that hadn't been done since 1989 when Books of Wonder/William Morrow released Dorothy of Oz, that is, publish a traditional Oz book that followed on the stories established by Baum and his successors. As hugely popular as The Wizard of Oz is, mainstream publishers have shied away from publishing traditional Oz books, a task that's been mainly taken up by small press publishing companies. Perhaps it's because Oz is in the public domain, or simply because large publishers aren't assured of a guaranteed success from a new Oz title or series. Whatever the case, they let slip a potential market that would/could have been cultivated with the right publicity. Byron Preiss, however, was an Oz fan, and had wanted to see a new series in print for some time. He believed it could be done. This finally came to fruition with the duo of Sherwood Smith, herself a fine fantasy writer and Oz fan, and William Stout, an artist that Preiss had helped put on the map. Even the Baum Trust put their stamp of approval on the project. Two books were released, The Emerald Wand of Oz and Trouble Under Oz. Both featured the adventures of two sisters, Dori and Em, descendents of Dorothy Gale, who found themselves in Oz, befriending Rik, the son of Ruggedo, the former Nome King, and encountering all manner of adventures. As the books introduced some minor controversial elements, devoted Oz fans were mixed in their reviews, but the series was generally welcomed. The writing was good and it was clear the author cared about Oz (even if she got some details wrong). Also, the illustrations were excellent. Then tragedy struck. Byron Preiss was killed in a car accident on Long Island. With Oz's foremost advocate dead, and sales not reaching the heights they'd expected (although with little marketing and publicity, can they really have been surprised?), HarperCollins cancelled the series, and left the story and its fans without a conclusion...
For eight years there was nothing, not word or even a glimmer of hope that a future story would see the light of day. The purported third book in the trilogy, Sky Pirates Over Oz, was simply dead in the water, an ignominious end to an ambitious project that hoped to see the reigniting of Oz in the imagination of readers young and old.
Then, word slipped out that Pumpernickel Pickle, the publishing imprint of Marcus Mebes, would be releasing it. Could it be?
It could and it did. As of today, Sherwood Smith's third Oz book, Sky Pirates Over Oz, is available! If you haven't yet picked up the first two installments, they're available and affordable on Amazon and Barnes & Noble!
1/9/14 The Royal Illustrators of Oz
For a long I've wanted to go back and include a listing of the illustrator (s) of each Oz story, and I finally have! At least, I have on the mainline and parallel timelines. The stories in the Deadly Desert and Dark Side sections need some updating in terms of adding the ton of stories that have come out (or which I discovered) in the years since last updating this page, adding publication dates and illustrators (though many don't have illustrators), and frankly, my focus cannot at this time be on this section. I want to add an Oz magazine page that lists every story and contributor, as well as continue rereading everything in the mainline and parallel timelines, as well as proofread, edit and publish some new Oz books for you guys! There's a lot to come, so if you love Oz, stick around! So, hopefully you'll understand if I allow the Deadly Desert and Dark Siders to sit still for awhile. Chances are if you're reading this you're probably more interesting in the Baum-based Oz tales than any of the vast re-imaginings.
1/7/14 Moon-Tales
Nathan M. DeHoff's new short Oz tale "Going to the Moon" is a sequel to Ruth Plumly Thompson's The Enchanted Island of Oz, reuniting David and Humpy as they journey to the moon! Check it out here!
1/6/14 Updates
Nearly every story on the mainline timeline now includes publication dates of significant editions. On retrospect, I realize I should have included artists, but that'll have to wait for the next overhaul. As I go through the timeline, things are shifting and will continue to shift as I reevaluate every book chronologically.
In Royal Publisher of Oz news, Jaun Raza is completing his amazing artwork for Paul Dana's The Magic Umbrella of Oz. Additionally, Patricio Carbajal is similarly sending some very exciting images for the deluxe edition of Sam Sackett's Adolf Hitler in Oz! Expect to see these soon!