Royal Oz News 2005-2008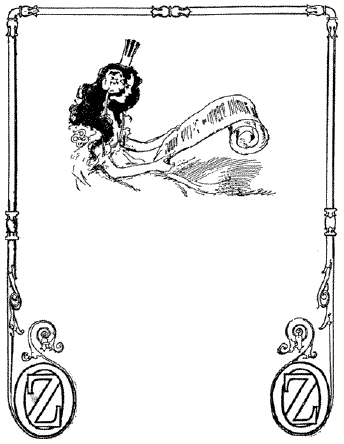 8/28/08 Two new Oz stories are available online!
The first is an FF-based 'dark side' Oz story (PG-13: Dorothy/Scarecrow slash) called Everything Changes (Except Oz).
The second is an FF-consistent story (which was placed in the mainline timeline page in 1983) called The Solitary Sorceress of Oz. This is a rare origin tale for Glinda, and a rather good one at that! Enjoy!
8/01/08 In Oz, even the long dormant come back to life. So too with this site! We have a new, exclusive short story for you! This time, a prologue to a much longer, forthcoming work from Jeff Rester. You can find Prelude in our New Oz Tales page!
6/30/08 Just a quick note to say I haven't forgotten you guys! My plan, as noted below, is still in effect. No date yet as to when I'll be returning to Oz, but Ozma's invitation is open. I need only to make the sign and she'll whisk me there. I did make a small change on the timeline, moving Enchanted Apples over to 1986 from 1903 as per the author's explanation (which is always appreciated!) But as many of you know, I still have a lot of updating to do! And as I stated earlier, I will be going from beginning to end, as well as rereading the books from the other sections. If I have my way, I'd like to jot down continuity notes for each book (contradictions they explain, gaps they fill in, etc.), but we'll see. It's something I look forward to!
4/13/08 Apologies once again for the lack of updates and news. Certainly the world of Oz has been busy with old and new material surfacing, especially the wealth of material coming out of Lulu.com's print-on-demand site! My situation is simply that I've been busy, personally and professionally. I should have some news on the latter front soon, and I hope it will allay some of your concerns that my devotion to the Land of Oz has diminished. I assure you, it has not. My goals are still to go over the entire body of Oz books and, in the process, overhaul the site and timeline. Right now, that's the process I'm going through with my Star Wars site. In the meantime, if you see I've neglected to post a book on the timeline, by all means drop me a line and remind me. I'd appreciate it! I should have some additional good news to report in about a week's time, so you loyal Ozian fans will see I haven't entirely been neglecting Ozma's realm!
3/28/08 Fans of Marcus Mebes Oz books will be happy to hear that Shipwrecked in Oz is available over at www.lulu.com. Good stuff! Check out his page too for some long out-of-print Baum and Denslow titles as well! Also, those of you who've been wondering about the progress of upcoming Oz fiction on this site, there will be some news in the coming weeks that should prove of some interest. I'll let you know as soon as I can.
1/21/08 It's available, the completely rewritten Mysterious Caverns of Oz! Head over to http://www.lulu.com/content/1912949 to check it out and order a copy.

1/20/08 Dennis Anfuso (The Winged Monkeys of Oz) has a new Oz book out! The Astonishing Tale of the Gump of Oz is now available directly from the author. The price is $18.95; and is available from Toadstool Bookshop in Milford or directly from the author at ozmagic@earthlink.net. Write "From an Oz fan" in the subject of the e-mail.
And while you're at it, head over to Lulu.com for new reprints of L. Frank Baum's Tamawaca Folks and W.W. Denslow's Billy Bounce, both long out of print. Also coming soon will be a rewritten version of The Mysterious Caverns of Oz by Marcus Mebes!
Finally, Hungry Tiger Press has some new publications worth checking out: a new edition of John Dough and the Cherub, The Wish Express by Ruth Plumly Thompson, as well as some new Walt Spouse graphic novel adaptations of Baum's first three Oz books! That and much more!
I updated the 'upcoming releases' below, though not completely, as well as the mainline timeline. There's still a lot left to update, but it's a tad improved.

12/31/07
Some website news: I've arranged it so that www.oztimeline.net now forwards to the main page of the Oz portion of this site. And while "The Royal Timeline of Oz" is still technically under the www.timelineuniverse.net umbrella, I'd like to think this officially makes this timeline a separate entity from the others under the umbrella. This page, of course, continues to be the 'latest news' page for The Royal Timeline of Oz. And while I haven't updated it (or the timeline) in some time, I hope to rectify that in the coming year. There's a lot that I need to catch up on.
11/14/07
The updated version of TALES OF THE MAGIC LAND 3 is available. Those of you who have ordered it already, you should have received confirmation from Lulu that your book has been sent. Just contact Peter Blystone and he'll arrange to replace it for you.
At long last, the eagerly anticipated Tales of Magic Land volume 3 is finally available for purchase in a handsome new 6x9 volume that collects the last two books, THE YELLOW FOG and THE SECRET OF THE DESERTED CASTLE.
Expertly translated by Peter Blystone, this publication heralds the rebirth of Red Branch Press, which will soon issue new editions of translations of Volkov's Oz-inspired tales, as well as Sergei Sukhinov's tales of the Magic Land.
Fans of L. Frank Baum's THE WONDERFUL WIZARD OF OZ will be amazed at the life that the original story took on in Russia. This vision of Oz through the mirror darkly will surely be a welcome addition to your library or collection.
The book can be ordered online at
http://www.lulu.com/content/1349643
or indirectly by going to
www.lulu.com
and searching for "Oz" or "Volkov" or the title. The book has 404 pages and retails for $21.95. Lulu accepts PayPal or you can pay with all major credit cards.
I can personally attest to the accuracy and skill of Blystone's translations. He captures not only the story as it was originally written, but conveys the tale in a way that's enjoyable and entertaining.
Go get your copy now!
2/20/07 Many in the Oz community were grieved to learn of the passing of Oz author Mark E. Haas of a heart attack on Sunday, February 18th. Mark was well liked in the Oz community and amongst friends for his great stories, his cheerful and upbeat attitude, and the many humorous emails which he shared with his friends. Mark had written three Oz fantasies, two of which were published, The Medicine Man of Oz and Leprechauns of Oz. The third, Emerald Mountain of Oz is being prepared for publication and should be released by Lulu.com in the the near future. Mark was also working on a fourth Oz manuscript, The Golden Phoenix in Oz. Mark was also known for his love of animals (he owned two dogs and a cat), Broadway plays and of course, the Oz books (for which he was a staunch purist.) In a note Mark wrote to me on August 8, 2005, he said: "Until my dying day, I will hold dear the "old", innocent Oz, and, when I finally DO "cross the shifting sands" (as Baum supposedly said when he passed away), maybe I'll find the enchanting, magical Oz that I have known and loved all my life."
We'll see you there, Mark.
12/31/06 Oz on the March
Fans of print-on-demand site Lulu.com may have noticed that March Laumer's Uncle Henry and Aunt Em is available for purchase or download. It is but the first of a long line of Laumer books to come. The heir to Laumer's Oz legacy has made arrangements with Marcus Mebes and Lulu.com to put all of Laumer's Oz books back in print. For many fans, this is a long-awaited dream come true. March Laumer was the first writer to begin publishing new Oz books after the close of canon in 1963, and with the approval of Contemporary books (the successors to original publishers Reilly & Lee.) The reason Laumer's works aren't better known is in part because they were printed in very small numbers, and were often simply produced as illustrated notebooks. The other is that a large number of the Oz community rejected his take on Oz. Laumer was the first to "grow-up" the Oz cast and make significant changes to them. And some of his later works even feature 'adult' themes. As other Oz works entered the market which were more in keeping with the spirit and content of the original Oz books, Laumer's voice faded and his originals fell into the realm of specialty collectors' items. Soon all his works will be available again, for old and new fans to examine for themselves. You can pick up the first volume here.
11/20/06 Return

Returning after a brief jaunt to Italy to update the timeline with the news that Toto of Oz is now available from the Club. Many of us are looking forward to Gina Wickwar's second foray into Oz (after The Hidden Prince of Oz) as well as the new illustrations by Anna-Maria Cool. In other news, Hungry Tiger Press hasn't been idle and copies of Eric Shanower's excellent Adventures in Oz (which collects all of his graphic novels) have been shipping. Both hardcover and softcover versions are available, but the hardcover has considerably more, including 70 pages of bonus material. For more info, head over to Hungry Tiger Press' website. Site news: I've moved Sherwood Smith's two entries to the more appropriate year of 1999 (for more information see the footnotes on that entry.)
9/12/06 Oz Keeps Coming!
In what's proving to be an excellent year for Oz readers, fans can now go online to www.Lulu.com and pick up Phyllis Ann Karr's excellent Gardener's Boy of Oz. This is a sequel to Baum's Scarecrow of Oz and a great read that's fully illustrated by Melody Grandy. Also available is the first of the March Laumer books to be published. You can download it or purchase the hardcover edition. Uncle Henry and Aunt Em in Oz will be followed by other Laumer titles throughout the year!
8/14/06 More New Oz!
In the light of The International Wizard of Oz Club's latest offerings, I'd nearly forgotten to report of the exciting developments going on at www.Lulu.com. What, you've never heard of Lulu.com?! It's a website that offers print-on-demand books, including quite a few interesting Oz releases from such notables as Marcus Mebes, Steve Ahlquist and a little unknown author by the name of L. Frank Baum! The beauty is that many of these older reprint titles are facsimile editions, meaning you get the original text and artwork. Check out some of their growing selection:
8/13/06 Seven New Books!
Hope you've been saving your change! News in Oz often does not travel as quickly as the Sawhorse, but when it comes it comes big!
The International Wizard of Oz Club has been busy and have just released seven (yes, I said right: seven) new titles for your reading/collecting enjoyment! So let's begin:
| | |
| --- | --- |
| | Gina Wickwar's follow-up to the highly successful and praiseworthy Hidden Prince of Oz is finally here: Toto of Oz. |
| | L. Frank Baum's rare and hard-to-find short stories (including his first children's book Mother Goose in Prose) have finally been gathered together with original and new artwork in The Collected Short Works of L. Frank Baum. |
| | Ruth Plumly Thompson is also seeing a revival of her pre-Oz work in the very Ozzy volume (in traditional Oz book format) long-sought after by fans: The Wonder Book! Ruth Berman writes the highly informative introduction. |
| | And speaking of traditional Oz book formats, at long last the International Wizard of Oz Club has seen fit to rerelease four of their original Oz books in traditional Oz book format! The first up is Ruth Plumly Thompson's 20th Oz book (initially published in 1972), Yankee in Oz! |
| | Ruth Plumly Thompson's final foray into Oz, The Enchanted Island of Oz was released in 1976. It was her 21st Oz book and a fitting farewell to the grand woman who kept Oz alive from the 1920's on! |
| | Eloise Jarvis McGraw and Lauren Lynn McGraw, Royal Historians of the highest order, also returned to Oz in later years with the excellent Forbidden Fountain Oz, detailing Ozma's misadventures when she accidentally drinks from the waters of the Forbidden Fountain and loses all of her memory! |
| | Last but not least, famed illustrator Dick Martin (Hidden Valley of Oz) got to write and illustrate his own book, The Ozmapolitan of Oz, when Dorothy and Eureka had an amazing adventure looking for the source of the Winkie River, only to come across a mysterious boy and mischievous imp! |

7/31/06 New Sherwood Smith Oz
To be released on August 8th in bookstores everywhere, Trouble Under Oz continues the exciting adventures of Dori and Em as Rik the Nome attempts to take over the throne of Kaliko. For a cover image and continuity notes on the timeline placement of Smith's books, see here (Warning: Spoilers do apply!)
6/17/06 The Muppets Have Arrived!
Forget Ashanti. Here at last is the much-anticipated 1978 short story by Richard Paul Smyers, Muppets in Oz. You can check out this exclusive story here. And if you enjoy this one, I've got something special in store for you in the near future, a full-length novel by the same author involving parallel fantasy universes! Ozma, the Wizard and Glinda recruit all the magic-workers in and out of Oz to retrieve Samuel Salt and their friends who've disappeared into Neverland!! Before Edward Einhorn showed us parallel Ozziverses, Smyers discovered the link between Oz and the other fairy-tale realms. Keep your eyes peeled here for: An Ozian Odyssey! Available only at Oztimeline.net.
6/14/06 The Conventions are Coming
On the East Coast, specifically Princeton, New Jersey on August 11-13 at the Hyatt Regency. Go to www.mywebpages.comcost.net/munchcon/ for more info or email Chris and Sharon Warkala at: Munchcon@comcast.net.
On the West Coast, The Winkie Convention and Oz Collectors Fair is being held at the Asimolar Conference Grounds on July 14th - 16th. Email Peter Hanff (phanff@library.berkeley.edu) about reservations.
Finally, we have The Ozmapolitan Convention taking place on June 16-18 at the Holiday Inn in Naperville, Illinois. See www.OzClub.org for more info (or email Bill and Anita at: WBeem@comcast.net).
In non-convention news, I added a link to the Patchwork Parodies & Poems page regarding a 1959 Wizard of Oz parody entitled, The BNF of Iz. The story is available to read at the link indicated.
5/24/06 New Entries from Baum Heir

L. Frank Baum's great grandson has written two new Oz titles which have been published by Overmountain Press and are available for sale. The Oz Odyssey is a novel-length adventure in the tradition of Lion of Oz and the Badge of Courage and gorgeously illustrated by Victoria Seitzinger. For younger readers, there's Toto of Oz and the Surprise Party. More information can be found at the official site here.
5/16/06 Oz-Mania
OZ-MANIA! COMES TO THE NEW YORK STATE FAIRGROUNDS, MAY 19-21;
ONE-TIME-ONLY EVENT CELEBRATES THE 150th BIRTHDAY ANNIVERSARY OF
NATIVE SON, L. FRANK BAUM, AUTHOR OF "WIZARD OF OZ" CLASSIC

ALL-TIME LARGEST EAST COAST OZ EVENT BOASTS
8 FILM "MUNCHKINS," OZZY CABARET, BAUM PRESENTATIONS,
AND "JUDY GARLAND: THE DRESSING OF A LEGEND" EXHIBITION

"EVERY CENT OF TICKET SALES" TO BENEFIT
GOLISANO CHILDREN'S HOSPITAL SPECIAL NEEDS DIVISION

(Syracuse, NY) In what is described as the largest "Wizard of Oz"
celebration ever produced in the Eastern United States, Syracuse native son L. Frank
Baum will be honored with
OZ-MANIA! on May 19-21 at the New York State Fairgrounds. Better known as
"The Royal Historian of Oz," Baum authored the classic children's novel, The
Wonderful Wizard of Oz in 1900; May 15 marks his 150th birthday anniversary.

For further information, please contact:

Kathleen Sorbello DiScenna, President
The Land of Oz Preservation Company
415 North Salina Street
Syracuse, New York 13202
315 278-7029
www.landofozpres.com (http://www.landofozpres.com/)

or
The OZ-MANIA! Hot Line:

315-727-5561

Books of Wonder
This Thursday, May 18, I will be at Books of Wonder from 5 - 7pm, signing
copies of "The Living House of Oz." If you live in the New York area, come on
down! If you haven't yet bought a copy, here's your chance! Or buy a copy
of "Paradox in Oz," which will also be on hand, if you don't yet have one!
Plus, you can eat a cupcake at the Cupcake Cafe, which is now located right
inside the store. Signing along with me will be Roger Baum and Atticus
Gannaway, whose book on Oz was published by Books of Wonder themselves. It's all in
honor of L. Frank Baum's 150th birthday!

Books of Wonder is located in Manhattan at 18 West 18th St, between 5th and
6th. If you haven't visited before, you should. It's the most beautiful
children's bookstore I've personallyever been in.

Hope to see you!

4/19/06 The Tiger Roars!
2006 is proving a good year for fans of classic (old and new) Oz material! If you haven't done so already, check out Hungry Tiger Press' site for some very exciting publishing news on long out of print Baum material, old Ozmapolitans (a complete list which you are now available to read at their site) and much more!
4/13/06 Oz Forever!

Oz fans rejoice! At long last, Melody Grandy's highly acclaimed full-length novel, Forever in Oz, has been published!!
This stunning and powerfully moving story centers on Nick Chopper (the Tin Woodsman) and his long quest for a loving heart. Forever in Oz serves as the rightful conclusion to L. Frank Baum's Tin Woodman of Oz as it serves to explain the loose ends and properly complete the events behind Baum's tale. Featuring Captain Fyter (The Tin Soldier), Nimmie Aimee, Ku Klip, and fan-favorite Zim the Flying Sorceror! Forever in Oz has been described as Grandy's best Oz foray to date! Cover artwork is newly provided by famed illustrator Luciano Vecchio!
Melody Grandy is the highly acclaimed author of the Tippetarius in Oz trilogy featuring the return of Tip (Ozma's former alter-ego from Baum's Marvelous Land of Oz). Forever in Oz takes place shortly after the events of that trilogy (although knowledge of that series is not necessary to enjoy this adventure).
Copies of this volume are very limited! Contact the publisher here to reserve yourself a copy!
(Note: The cover title is a temporary mock-up used for the purposes of this site)
3/19/06 Exclusive Oz stories!
Hot on the heels of this site's exclusive new tales (see below) is an upcoming full-length novel from back in the day that has never been published until now! An Ozian Odyssey by Richard Paul Smyers is a stunning Oz tale starring Captain Salt, Dorothy, Toto, Jellia Jamb, Trot and Cap'n Bill, all of whom get shipwrecked in J.M. Barrie's Neverland!! But when none of the magic-workers in Oz can seem to figure out how to get them back out, the means in which they attempt to extract them is a story worthy of Einhorn's Paradox in Oz! This charming and amazing adventure is coming soon to this site along with another surprise so keep your eyes peeled here!
3/16/06 Exclusive Oz Parody & Poetry
I'm pleased to inform you that Aaron Solomon Adelman's very funny parody "An Evil Author in Oz" is now available exclusively here! And as an added bonus, we've included the excellent Oz/Carroll crossover poem, "The Broker's Mistake" an additional Fit from The Hunting of the Snark! Enjoy!
3/14/06 Rare Crossover in Oz Reemerges
Oz collectors and readers, the extremely rare book by Ray Powell, The Raggedys in Oz is available again in a very limited second edition! This tribute to Johnny Gruelle finds Raggedy Ann and Andy transported to Oz where adventure and danger awaits! This new volume sports added colors, an enlarged title, and more importantly, necessary editorial emendations which bring the book closer in spirit to the Famous Forty. Gone is Percy's exile and inevitable death in the mortal lands and the Nome King's fate is now in harmony with established Oz history. Note, this new edition is being printed in very limited numbers. Contact me here for prices and availability.
Dreams and Visions in a Poppy Field
Ever wonder what Dorothy was dreaming about in the poppy field in the Wonderful Wizard of Oz? Wonder no more! The new short story, Dreaming in a Scarlet Slumber is being released in limited numbers. For price and availability, contact the publisher here. This short tale written by longtime Oz student and Bugle reviewer Jeffrey Rester is a prequel of sorts to an upcoming epic novel that promises to shake up Oz forever. I can't offer any further information as yet on the upcoming novel except to say it will be enhanced by numerous b&w and color plates by the gorgeous illustrations of Luciano Vecchio! I've seen only a handful of these, and trust me, they are some of the most beautiful Ozian artwork I've ever laid eyes upon!
3/12/06 The Downside of PD (public domain)
Oftentimes Oz purists show consternation over what they consider a modern-day misuse of Oz characters in settings that are somewhat less than childlike. My personal take on the subject is to judge each situation individually. I've publicly derided efforts which introduce profanity, pornography and violence for its own sake (such as my review of The Emerald Burrito of Oz in the Winter 2001 Baum Bugle) while at the same time praising Caliber Press' Oz and Dark Oz series as original and exciting. When recent attention was brought to Alan Moore's upcoming project (from the online Yahoo group Regalia) – a decidedly pornographic take on a grown up Dorothy, Alice and Wendy – I again join the ranks of the purists in eschewing such deplorable exploitation. You can find my take on the subject here.
3/8/06 Rarities in Oz
Fans of rare Oz tales should keep your eyes peeled in the next few months as you may be treated to some new editions of old, forgotten classics and some never before published gems! I can't say anything more as of yet, but I'll be listing titles here as soon as I'm able. While you're at it, head over to Hungry Tiger Press and check out some of their newest offerings.
2/20/05 At Long Last!
Long overdue for the Royal Timeline of Oz site is its own news page. Apologies for the frustration many of you may have felt awaiting Oz news and encountering everything but on this site's formerly sole Latest News page. The primary focus for this New & New Releases is just that: the latest information on upcoming Oz books. I may mention a local convention or other item of interest, but the majority of Oz news will, as always, continue to appear in the pages of The Baum Bugle, which if you're any kind of Oz fan (book, movie, play), you should subscribe to as it's an excellent magazine filled with something for everyone! Go to the International Wizard of Oz Club's main site for more info. So if you've got any information on any new Oz or Oz related releases coming out, drop me a line here!