The Publishers of Oz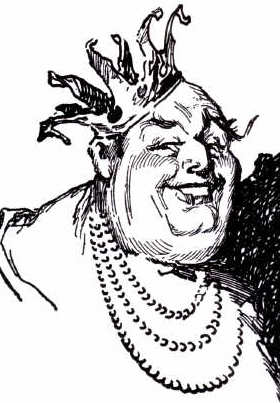 Books of Wonder http://www.booksofwonder.com is a children's bookstore in Manhattan, NY, founded by Peter Glassman, that specializes in Oz books among other classics of children's literature. Along with publisher William Morrow & Company, they've reprinted Baum's original 15 volumes in facsimile editions, as well as new Oz stories under the moniker of Emerald City Press. In addition, their 'Royal Club of Oz' featured a monthly journal called 'The Emerald City Mirror,' in which new short Oz stories were printed in every issue. The Club is no longer active and the 'Mirrors' have not yet been officially reprinted, though unofficial collections surface from time to time.
Buckethead Enterprises of Oz was the private publishing firm founded by author Chris Dulabone. It has since been renamed Tails of the Cowardly Lion and Friends (or TOTCLAF) and has taken over distribution of not only former Buckethead releases but those of Ozian Seahorse Press, founded by Baum Bugle reviews editor Atticus (Ryan) Gannaway. The goal of their founder is consistency with the canon of the Famous Forty, but they also actively publish the works of children. Their website is located at: https://sites.google.com/site/cowardlylionsite/Home where you'll find a multitude of new Oz books from various authors.
Dunkiton Press publishes rare works by Oz authors (especially from Ruth Plumly Thompson) and artists, reflections on Oz, as well as expansions to Jack Snow's encyclopedic, yet incomplete, "Who's Who in Oz." These include, "Who's Who in Oz, An Appendix" and "Who's Who in the Borderlands of Oz." Write to: Ruth Berman, 2809 Drew Avenue South, Minneapolis, Minnesota 55416.
There are several online locations for new Oz tales, though the majority are based on the MGM film rather than the books. Of the latter, however, Nathan Mulac Dehoff's online website features excellent Oz short stories (written under the pseudonym Damian Z. Pythias). You can find them here.
Hungry Tiger Press http://www.hungrytigerpress.com is David Maxine and Eric Shanower's baby, and the most successful Oz publisher since the close of Reilly & Lee. They've produced six volumes of the beautiful and highly praised Oz-Story magazine, along with some excellent volumes of Ozian lore (Paradox of Oz, The Salt Sorcerer of Oz, The Living House of Oz). Shanower's art and stories can be found in nearly all spectra of Ozian lore, most notably his series of graphic novels reprinted as Adventures in Oz.
IWOOC stands for The International Wizard of Oz Club, an organization that began in the mid 1950's and has continued down to this day. They publish the Baum Bugle six times a year, Oziana magazine once a year, a number of the original books of the Famous Forty, as well as scholarly publications, little known Baumiana, and some of the later Oz books from both authors of the Famous Forty and newer talent. They have also reprinted their older Baum Bugles in "Best of..." editions. You can also order copies of the Oz map seen on my site (free of all the paste-ons and link photos). Head over to their website at http://www.ozclub.org for more information.
Pumpernickel Pickle publishes out-of-print Baum, Denslow, Thompson and Volkov, as well as other modern Oz authors like Phyllis Ann Karr's Gardener's Boy of Oz. Owner Marcus Mebes has also reprinted his own Oz books in nice editions. Definitely check out his books here.
The Royal Publisher of Oz
The creator of this very site, The Royal Publisher of Oz is now publishing Oz books consistent with the books found on the mainline timeline. This doesn't mean you, as the author, needs to have read every single Oz book, but that you're open to changes that will make your story consistent with the primary history of Oz. If not, there are other histories of Oz that take place in parallel Oz universes, and that may be an avenue for your story. But for now, The Royal Publisher of Oz is only looking for stories that take place in what is considered the primary Oz universe. For more information, go here.
Looking to get your Oz story published? This can be a daunting task. Major publishers don't see much profit value in publishing traditional Oz stories (unlike, say, Wicked and its sequels). This leaves authors the dilemma of finding a small-press publisher or privately printing and distributing their manuscript. Small-press publishers don't pay much, but without the benefit of proper proof-reading and strong editorial skills, many of these self-published efforts don't get very far. Determined writers may even be content to publish their work strictly online for the sheer joy of sharing it with others. All well and good. But for those who wish to have a physical book in hand, here is some advice to follow: Go to the websites of any publisher you're interested in; read the fine-print; and understand exactly what you're getting... and not getting from them. Ask questions. Know beforehand that many companies simply do not have the resources for advertising, volume printing and other common amenities that many have come to expect from the major publishers. Oz publishing is very much a DIY effort, so it pays to go to conventions, talk to people and fellow fans and authors, and get to know your limited, but dedicated fan-base.