Ten Questions for Queen Ann in Oz authors Karyl Carlson & Eric Gjovaag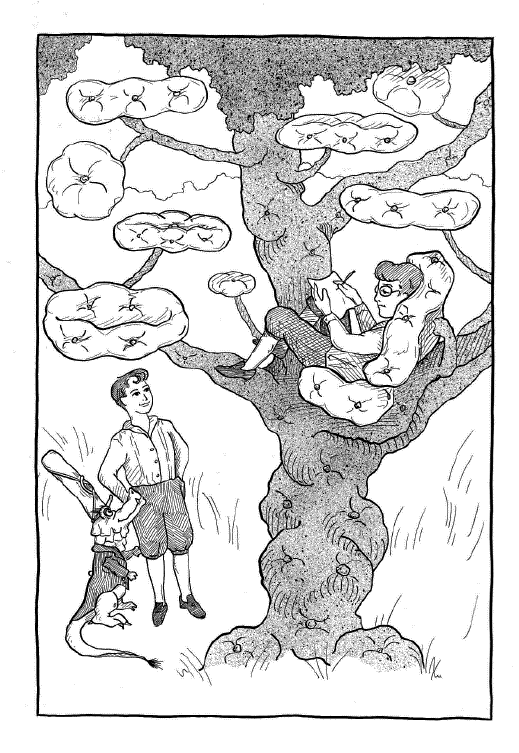 Illustrations © Bill Campbell & William Irwin
What brought you first to Oz, and how old were you when you discovered it?
Karyl: The very first Oz book I owned was the Julian Wehr "animated" Wizard of Oz. I was very young, probably not reading yet when I was given it. But I was read to daily by my dad, and frequently taken to the library by my Grandma and it was there that I was introduced to the whole world that is Oz. Too young to understand about due dates, I would keep the books for weeks on end. I remember the day when I finally read and understood the small print on the card envelope in the back of The Road to Oz. I was mortified, broke open my piggybank to pay the fine and rushed to the library, where the librarian explained that she had renewed the book for me. What a true and understanding friend to a young reader.
Eric: Like everyone else of (roughly) my generation, my first exposure to Oz was the annual showings of The Movie on television, and I have no idea when that started. But my sister and I were voracious readers, and my folks did the right thing by reading to us as well, so around first grade, my dad read The Land of Oz, The Wizard of Oz, and The Road to Oz to us after checking them out of the library. So I at least was aware that there was more beyond The Movie. But it was third grade that cemented things for good, as my teacher, Mrs. Frances Hanford, read The Wizard of Oz to us, and let me look at the rest of her books as well. Most were the then-current Reilly and Lee white editions, but she also had this enigmatic older book called The Silver Princess of Oz, which intrigued me (but I don't think I ever tried reading or looking in it). Not long after, I started collecting the then-new Rand McNally paperback editions, and was hooked. I know I got a stack of books for Christmas that year, so I was eight.
Do you have a favorite Oz book? And if so, which one and why?
Karyl: All the Baum Oz books! OK, if I must choose one, The Patchwork Girl of Oz. It is such a wonderful celebration of not being cut off from the Land of Oz forever! And it has Scraps and the Woozy and Bungle--such marvelously unique characters.
Eric: I used to say Rinkitink in Oz was my favorite, probably because of the epic scale and adventures in it. Too bad about the ending! But I've matured and become a more sophisticated reader (I hope), and now I think I like them equally, if for different reasons. I even enjoy most of the fanfic and ephemera that's out there, just because it's fun to see what other people do with Oz. The only ones I don't like are the ones who try to make Oz something that it isn't.
You chose to write a sequel to Tik-Tok of Oz, involving a plot hint that Baum left behind (of Queen Ann's missing parents). Why did this particular topic and/or character strike you as something and/or someone you wanted to write about?
Karyl: Well, this goes back to when I joined the International Wizard of Oz Club in 1974. I joined in the Spring, too late to go to the Winkie Convention that year. Immediately putting the Oz map and the U.S. map together I named myself Queen Ann of Oogaboo and in that persona wrote an indignant letter to Fred Meyer (the club secretary) asking why my Royal snootiness had not received a special invitation and threatening to march into the next one with the Oogaboo Army. Fred was quite amused.
I did go to the convention the next year, with three of my sons in a VW camper though not in uniform, and I have missed only one in the ensuing 39 years. And I have "been" Queen Ann ever since. Of course I had to write the sequel to my first adventure!
Eric: When a bunch of local Northwest fans started gathering, we called ourselves the Oogaboos, since Oogaboo is in the northwest of Oz, and our meetings eventually gained the moniker Oogaboo Rendezvous. As Karyl said above, she just sort of appointed herself Queen Ann, and I dressed as Files one year at Winkies. So Oogaboo was just part of our local fandom. When I ran a story contest in my journal, The Oogaboo Review, naturally Karyl had an entry and she's the one who came up with the adventure hook. But it works so well, why wouldn't someone write a story about Ann's missing parents?
What was the process of collaboration between the two of you? Also, was it daunting stepping into Baum's shoes in a way to try and carry on in his universe?
Karyl: Eric and I first met at those earliest Oogaboo Rendezvous. Eric knew, just as I did, that the Pacific Northwest is Oogaboo. So, we started having Oogaboo Rendezvous with all the Ozzy people we could find in the area. He is a year older than my youngest son and with an interest in Oz much greater than any of them so he fit neatly into my "family package."
Eric: I missed the first one, as I'd been on a Boy Scout hike when the invitation came. Not long after, I quit the Boy Scouts! So we most likely met at the second Rendezvous, in the fall of 1978. And although we can't take credit for starting it, we're probably two of the biggest reasons they're still going. The leader in getting that going was the late Rob Roy McVeigh.
Karyl: But the collaboration is a whole other long story. Eric was publishing The Oogaboo Review, and he was seeking input from the readers. So he suggested starting a serial story. Inspiration! I wrote the first chapter, starting with Ann's letter to Shaggy. The serial died after about 4 chapters.
Then, in 1990, I had just become unemployed when out of the blue came a letter from Eric, who wondered if we two shouldn't revive the further adventures of Queen Ann. It was a life raft to grab at a very low point in my life. The writing itself went very easily. When one of us ran out of ideas or time we would send it off to the other, who always managed to pick it up and carry it on. Letters with similar ideas would often cross in the mail!
I had read and re-read all of Baum's Oz books to the point of nearly memorizing them—I was not at all intimidated about trying to follow in his footsteps.
Eric: It wasn't daunting to me either. In fact, one of our goals was to write something much more traditional. We started writing in the early days of non-canonical Oz ephemera, and most of what was coming out was totally not Baum at all, like A Barnstormer in Oz and Was and that ilk. This was before the internet, of course—I think we may have had a much longer and more involved book if we'd had e-mail—so we just sort of started writing, and when we got to a good stopping point, or a particularly thorny barrier, we'd send what we had off to the other and carry on. The original plan was that we'd alternate chapters, but I don't think we stuck with that too closely once we got going. I do remember Karyl once suggested a town of dentists, but that didn't seem particularly Ozzy to me, so, having just gotten a haircut at the time, I thought barbers would work, and thus was born Barberville. Looking back on it now, however, there are at least some parts of the book that we're not sure who wrote what!
For readers who don't know, you starred in a production of "Another Adventure With Ann," a prequel to Queen Ann in Oz (and included in the book) for the 1983 Winkie Convention. What sparked the creation of this? And when did you decide to portray the characters from the story?
Karyl: It was the 1988 Winkie Convention, and I was chairman. I wanted my convention to be lively and fun, not stuffy as some of them had lately been. So Eric wrote the skit, we recruited and bullied all the Oogaboos to act in it (some of them have never been to Winkies before or since that year) and it was a hoot! All singing! All dancing!
But there was no deciding to portray the characters, they just took over!
Eric: Karyl chaired the convention that year, and all it was meant to be was a bit of silliness to start off the convention, and sort of parallel the convention experience in Oz. I wrote the thing and cast most of the Oogaboos who were going, with the late Warren Hollister playing the Tin Woodman. Let's just say that Ann (nor her temper) had not improved much with age since the events of Tik-Tok of Oz. I don't think it really had much influence on Queen Ann in Oz, but we did manage to slip in a little reference to it as an inside joke. (Of course, now everyone is in on the joke.)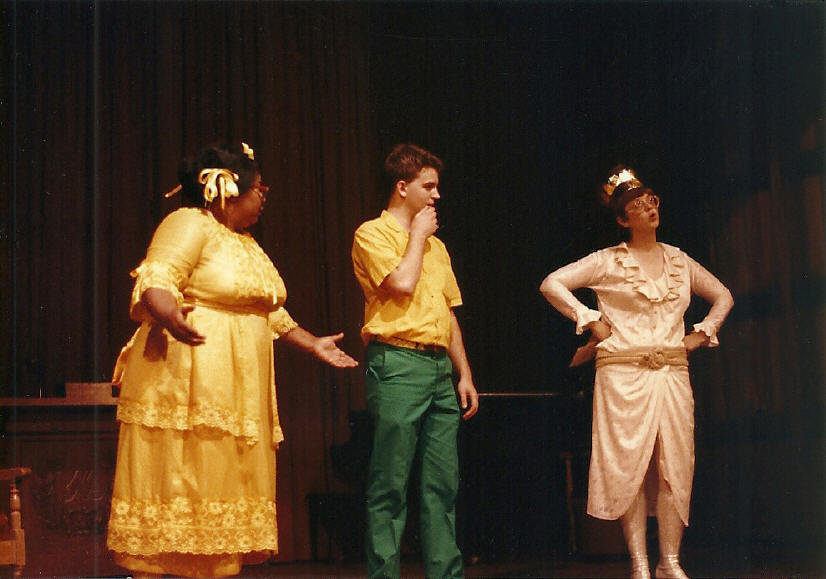 Photo ©Karyl Carlson
There are now a lot of fantasy worlds that have been created for literature, film and television. What is it about Oz that has kept you a fan all these years? What is it about Oz that keeps fans reading and writing further adventures?
Karyl: It's a hard question to answer. Oz is so real to me—it is another world where new adventures keep happening just as they do here in this world. And people keep writing them and reading them because we want to know the news of that world just as we want to know the news of this one. Only the Oz world is more fun!
Eric: Good grief, if I knew the answer to that, I'd be as successful of a writer as J. K. Rowling! In my case, I think it was just right place, right time. But there also just wasn't as much at the time. Mrs. Hanford, the teacher who got me hooked on Oz, also read to us The Lion, the Witch, and the Wardrobe, and so also got me hooked on Narnia at about the same time as Oz. Even though I've done a lot more with Oz, I am also a Narnia fan, and the two are linked in my heart. Outside of Wonderland, a lot of those fantasy worlds were either created more for adults, or just weren't around at the time. But Oz has two big advantages: One is that the books are self-contained. You don't have to read the entire series to enjoy them, each one can be enjoyed on their own. And they're in public domain, so that anyone can not only write an Oz book, but actually get it published if they're so inclined. Plus, Oz is just a fun place!
Three big-budget Oz films have now been produced. What are your thoughts on: the classic Wizard of Oz? Return to Oz? Oz: The Great and Powerful? What would you like to see of a new Oz film?
Karyl: To me the Oz movies are just like the books--news from the other world I love and believe in. I would love to see a Disney Studios animation of The Patchwork Girl of Oz.
Eric: Hey, don't forget The Wiz and Legends of Oz: Dorothy Returns. I think the reason The Movie and Oz the Great and Powerful succeeded is that they both, in different ways, actually managed to capture the magic of the books. Sure, they made changes, but that's what you have to do to turn a book into a movie. I don't think there has ever been a movie adaptation that hasn't made any changes. Return to Oz came close to capturing that same magic, but they heaped on too much darkness and angst. If they'd stuck to a lighter-hearted adaptation of one of the books, it might have found a broader audience. And that's what I think a successful Oz movie needs: Don't stray so far from the source material. For the next Oz movie, I'd like to see a straightforward adaptation of either The Land of Oz or Ozma of Oz. But I suspect we'll see a sequel to Oz the Great and Powerful and the Wicked movie first.
This publication of Queen Ann in Oz is the second, now revised and containing a sequel, Jodie in Oz. The original publication was way back in 1993, which was over 20 years ago and seems almost like a different world. Did you anticipate that your work would have such a lengthy span, and that people would still be interested in your adventures from far-off Ooogaboo?
Karyl: Well Baum's Oz books have lasted over 100 years—why wouldn't ours? Actually that is not something I ever thought about at the time—I was just so excited to be an Oz book author!
Eric: I don't know if I actually anticipated it would have such a long life, but I'm not surprised. After all, look at how long people have been reading Baum's original books. We tried to write something more traditional and timeless, and I think it's safe to say we succeeded at that. (I remember one revision I made for this new edition, changing "VCR" to "video," now that a VCR is outdated technology.)
You're hosting an Oz convention next year. While that's still a long way off, can you tell us what that's all about? How are Oz conventions different than the standard fantasy/sci-fi convention?
Karyl: I will let Eric deal with this one.
Eric: Karyl and I, and to a lesser extent some of the other Oogaboos, have been attending and helping to organize Winkie Conventions for a very long time now, so when the opportunity arose, we decided it was time to bring the Winkies to our neck of the woods, in Portland, and give the convention an Oogaboo flair. With the long distance from its usual sites (this will be the first Winkie Convention ever outside of California) and the anniversaries of Rinkitink in Oz and Captain Salt in Oz, there will definitely be the feel of a sea cruise to a far and distant land. But we also don't expect to get quite as big a turnout as San Diego did in 2014 and likely will in 2015, so it will probably be a little smaller and more intimate, although still bigger than an old traditional Winkie Convention. I've been saying for years that the Winkies need to look at other sic-fi and fantasy conventions for ideas and ways to grow, and I'm glad that that's happened now. But I also know that some longtime Winkies were put off by just how big it got in San Diego, so Karyl and I are already trying to think of ways to bring some of that back, just on a bigger scale. (No, it's not easy, and we haven't even started the real heavy lifting yet!)
I've been racking my brain trying to think what makes Oz conventions so different, and even though I recognize that they are, I'm not sure I can explain why. A lot of it is just the atmosphere, however, with everyone being brought into the fold as long lost family members, even if it's their first time.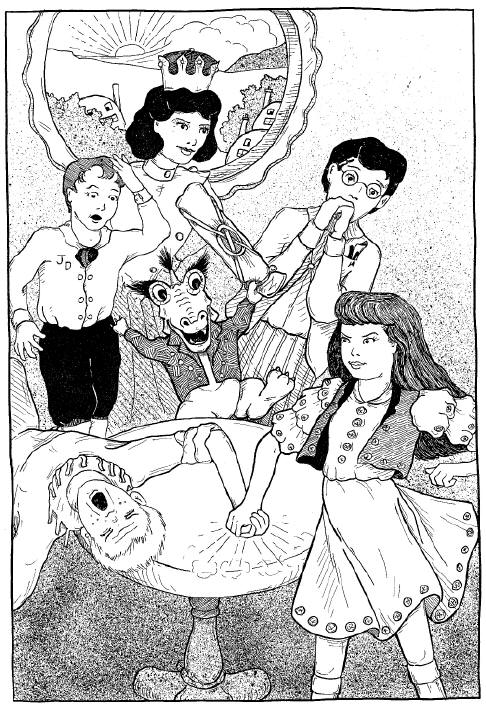 If Hollywood were to make a motion-picture of your book, who would you like to see play some of the main cast?
Karyl: I think Disney could do a wonderful animated version of Queen Ann and Jodie in Oz. As for the voice actors—I don't know--Eric, any ideas?
Eric: Good grief, I have no idea. I think Jodie and the boys should be young, undiscovered newcomers, and let's turn Mortomore over to the Henson workshop—unless it's an animated movie instead, of course!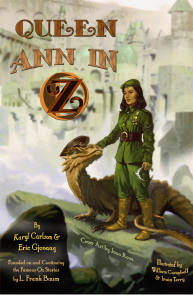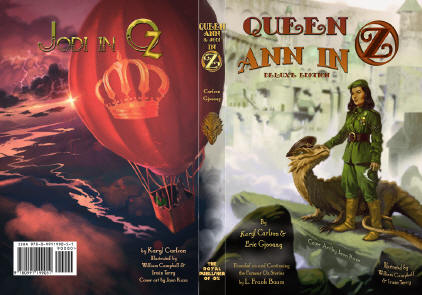 Queen Ann in Oz is available in Trade Paperback and Deluxe Hardcover editions